CANCELED FOR THIS YEAR. Women's Beach Retreat
I AM SADDENED TO SAY THAT THE BEACH RETREAT FOR 2020 HAS BEEN CANCELED DUE TO SAFETY CONCERNS.  I SINCERELY HOPE WE WILL BE MEETING NEXT YEAR.  PLEASE READ BELOW IF YOU WOULD LIKE TO GET SOME DETAILS ON HOW THE RETREATS ARE LAID OUT.  THANK YOU AND STAY SAFE AND HEALTHY!
Come join me for another fantastic Women's Gathering at the beach, Sunday, September 27th - Thursday, October 1st, at Sandbridge Beach, VA!  Take some time to get away from it all and receive healing.  We will be doing Shamanic ceremony, meditation, drumming, and ritual along with eating healthy, satisfying meals based on the protocols of the Medical Medium®.  We will be finishing off with the grand finale,  a Full Moon Ceremony on Wednesday, September 30th, where we will connect to the light of Grandmother Moon . 🌛🌜 I have almost 30 years of teaching women's shamanic workshops, and I still love it as much as ever.  Shamanism teaches us how to connect to the powerful feminine forces of Grandmother Ocean, Grandmother Moon, and the Earth Mother to receive nurturing, rejuvenation and love.  This year I am thrilled to announce that I will be joined by my good friend, Rachel Mann, PhD, who is also a Shamanic Teacher and Healer.  Rachel will be leading several Shamanic ceremonies as well!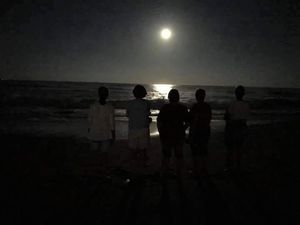 You will arrive Sunday afternoon, September 27th, to join in for dinner and an opening ceremony and introduction circle.  We'll be staying at a big house with a short walk to the beach, where you can walk for miles.  Each day we will have healing, yummy food choices of juices, smoothies, and filling plant-based meals.  For those of you already following Medical Medium® protocols, you will be happy to know there will be lemon water, celery juice, Heavy Metal Smoothies, adrenal snacks and fat-free and low-fat meal choices.  You will have time to walk on the beach and relax, along with daily meditation connecting to Grandmother Ocean.  You will be in a loving, supportive group of women, where we all come together to help empower each other.  We will complete our time together with breakfast Thursday morning, October 1st.  This is a time of coming together in a women's circle to get away from your stressful life, share and get re-charged.  Connecting to the feminine forces of the Earth Mother, Grandmother Ocean and Grandmother Moon can help build you up and replenish your energy!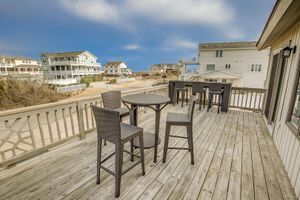 Two minute walk to the Beach!
Testimonials from previous attendees:  
"I found the women's beach retreat with Sue to provide food for the body and soul.  The physical food provided is delicious and satisfying. After 4 days on the prescribed diet I felt wonderful and energized.  For the soul, I enjoyed ceremonies connecting with grandmother ocean, grandmother moon and participating in a ceremony of 7 women.  All of this brought much needed renewal.  I ended the retreat refreshed on many levels."  Debbie  
"I've been to three of Sue's beach retreats. I loved each one. Sue is knowledgeable and generous in sharing her experience with others. Her workshops and ceremonies are always well organized and set at a comfortable pace. You can count on her to be honest and speak for your highest good. I highly recommend spending time with her in a personal session and participating in her classes, workshops and retreats.
The guided meditations are usually relaxing, yet inspiring and thought provoking. I liked that I could participate with the group and still have some time to myself or socialize during our breaks.  I particularly like doing ceremonies on the beach when the weather allowed for it.  Sitting near the beach by myself or with company listening to the ocean waves is great too!"  Flame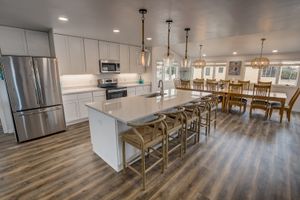 Our Kitchen!
Details:  Space is limited!   Single rooms are now SOLD OUT.   If you''d like to get on a waiting list for a single room, please email me at info@healingwithsusanwolf.com.  Price includes workshop, accommodations, and food, including 11 meals, snacks and drinks starting Sunday night dinner through Thursday morning breakfast.  Single accommodation:  $1,025.  Shared accommodations:  $825.   Deposit for single accommodation:  $525.  Deposit for shared accommodations:  $425.  Remainder due by July 15th.  Closest airport is Norfolk International Airport, about 45 minutes to Sandbridge.  Please contact me with any questions and hope to see you at the beach!
Single and Shared Bedrooms -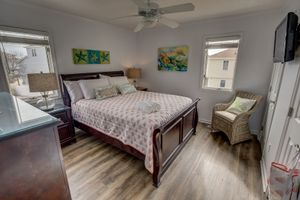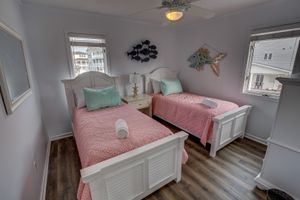 More about Rachel Mann, PhD, Guest Teacher: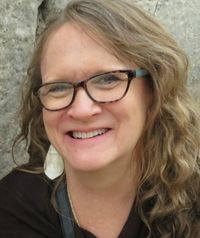 Rachel Mann, PhD is a shamanic healer and spiritual teacher whose work combines the wisdom traditions of Native American spirituality, Buddhism, shamanism, and depth psychology.  She is the founder of the Institute for Awakened Heart Shamanism. This ancient and contemporary curriculum offers deep wisdom for how to step into natural abundance, authentic power, soul force, and spiritual sovereignty as together we dream a world of peace into being.  Her worldview and teachings are love-based and inspirational.  She is a member of the faculty of Atlantic University, affiliated with the Edgar Cayce Association for Research and Enlightenment.   To see more about what Rachel offers, please check out her website:  https://rachelmannphd.com/
Scenes from the Women's Beach Retreat, 2018